Photos and photo booths have always been a must at any event because it gives us a chance to capture moments that can be shared and looked back on. As technology gets more advanced we see this evolve in the way we want our photos to be taken and shared. Two of our favorite finds at the NW Event Show was the Shutter Bus and the live mosaic wall by National Event Pros. Both embody the simple concept of capturing moments and elevating that simple act to a higher level.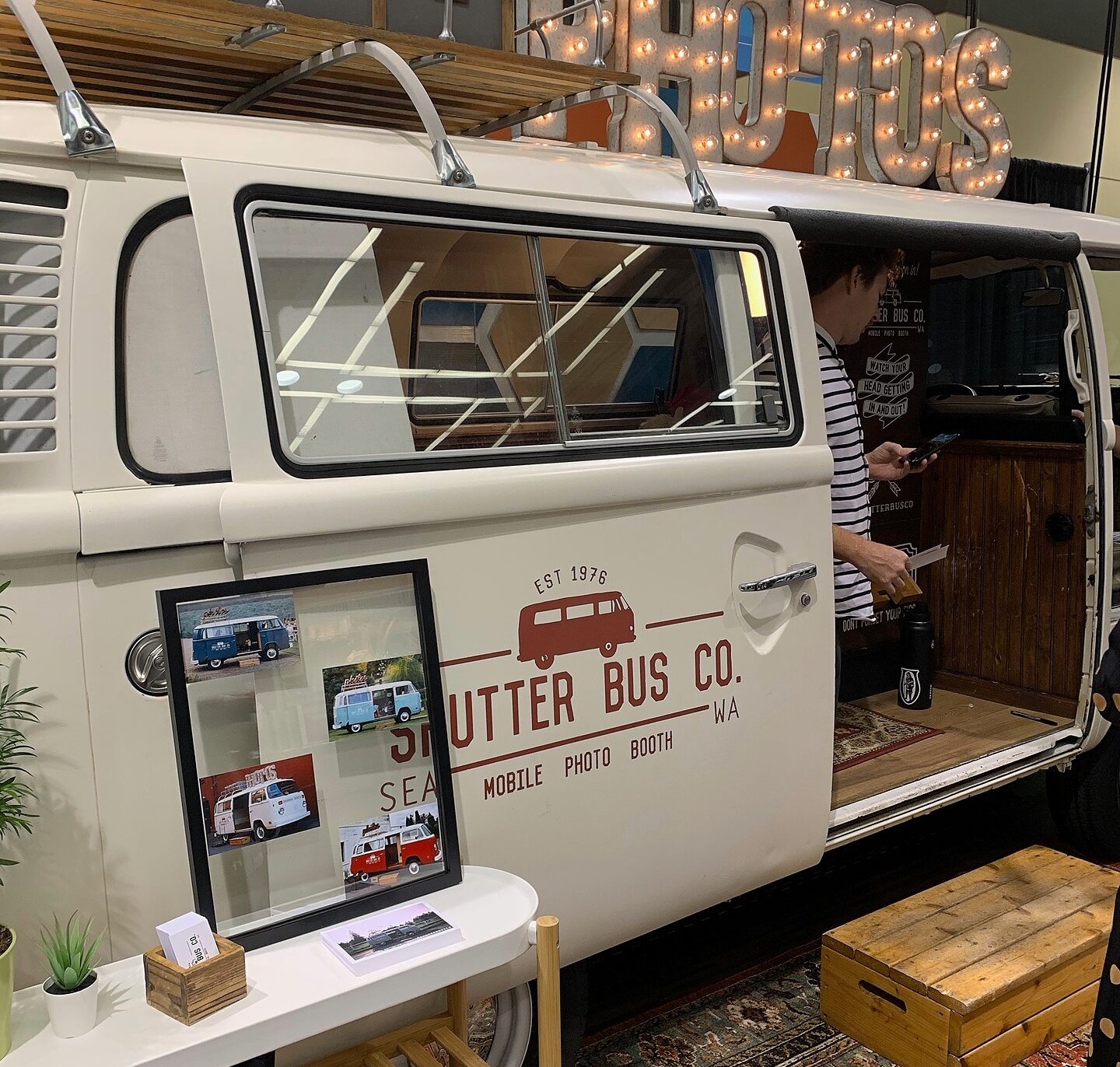 The Shutter Bus – to begin the pure aesthetic of it is beautiful, an old VW bus! What is more fun than that? Then we step inside and are transported into a professionally lit photography studio! So fun and so creative.
The Photo Mosaic Wall – there has always been a struggle to take all those photos that were captured at an event and create something amazing. The Mosaic Wall is one very fun and very beautiful solution.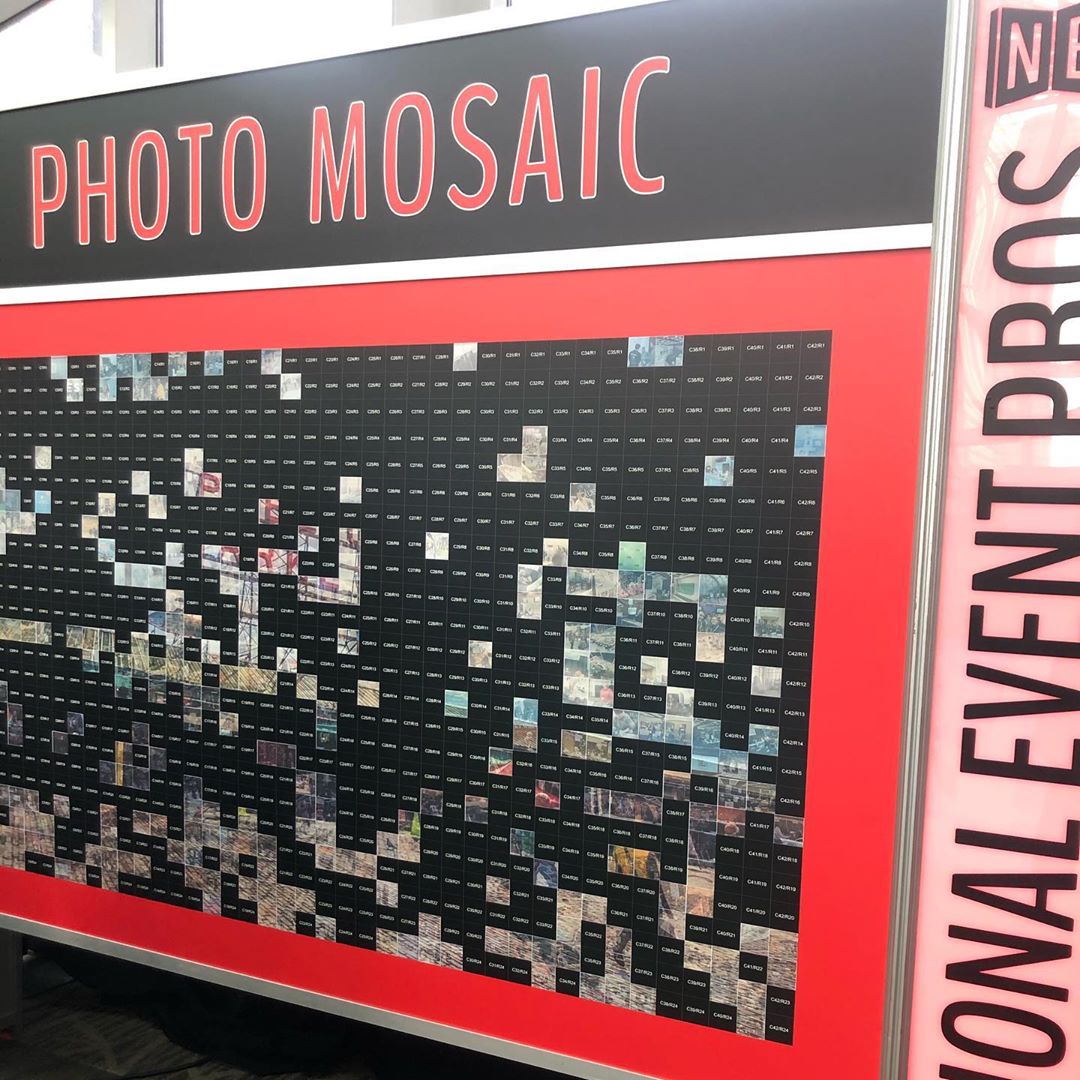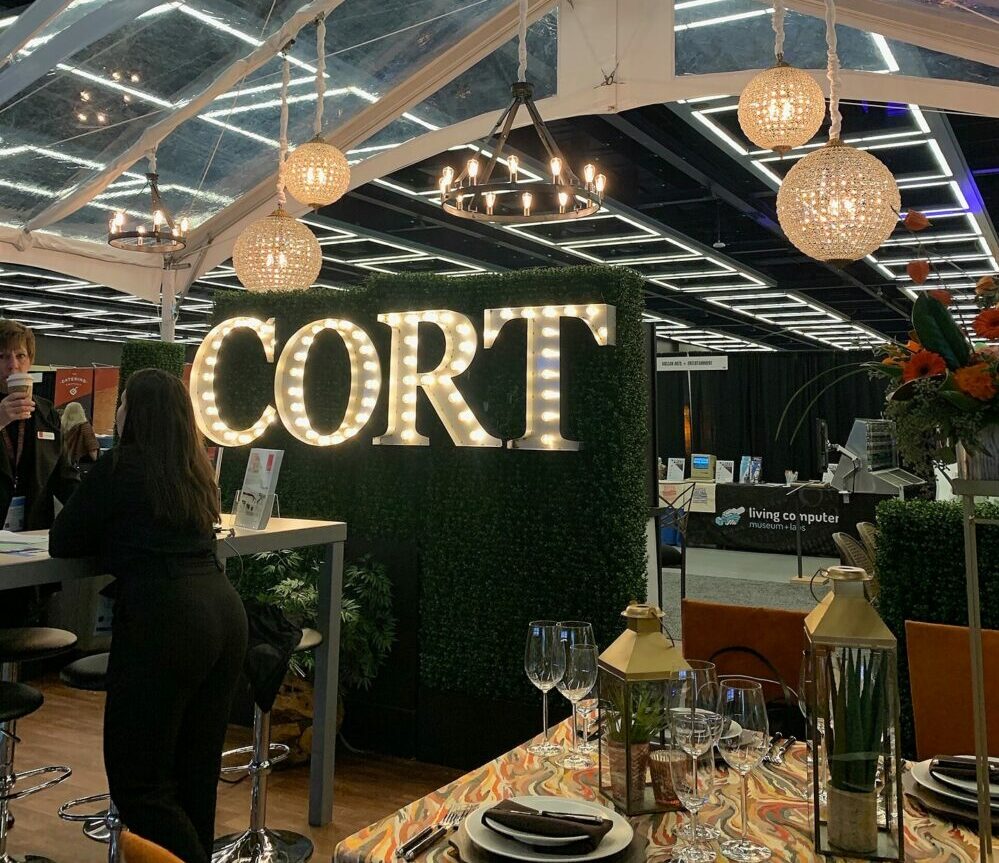 Every successful event has some sort of décor and we are seeing a shift in how it is being executed. The emerging trend in décor is a more natural look incorporating the 4 elements into every aspect of the design. These design cues can be seen as a smooth curvature of balloons to symbolize the flow of water or in natural textures of wood we see in many built out lounges.
Alexander Party Rentals did a fantastic job at bringing the outdoors in with the lounge they created for guests to sit and relax during the show. This gave attendees a chance a peaceful escape from the hustle and bustle of the show.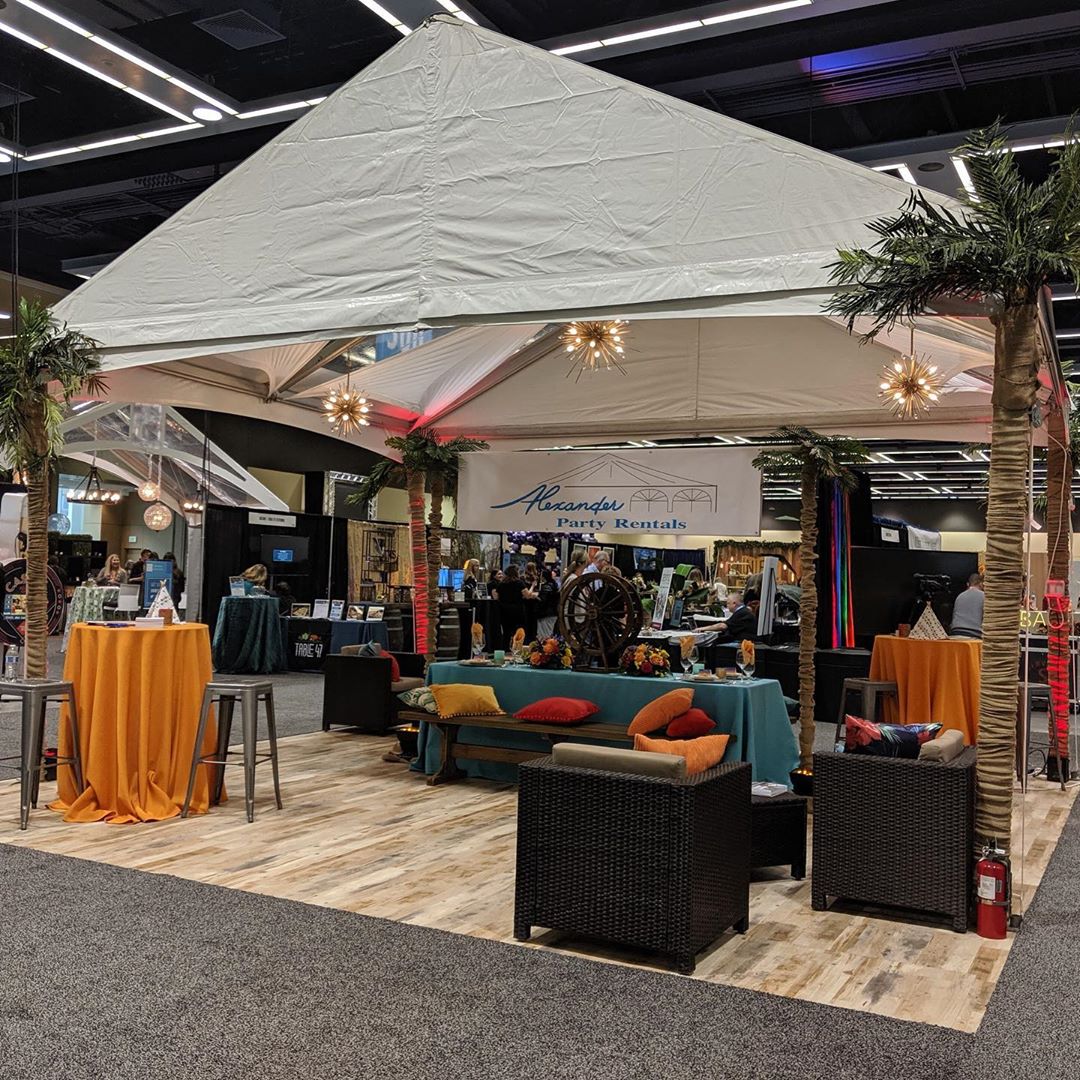 3. Giveaways and Sales Tools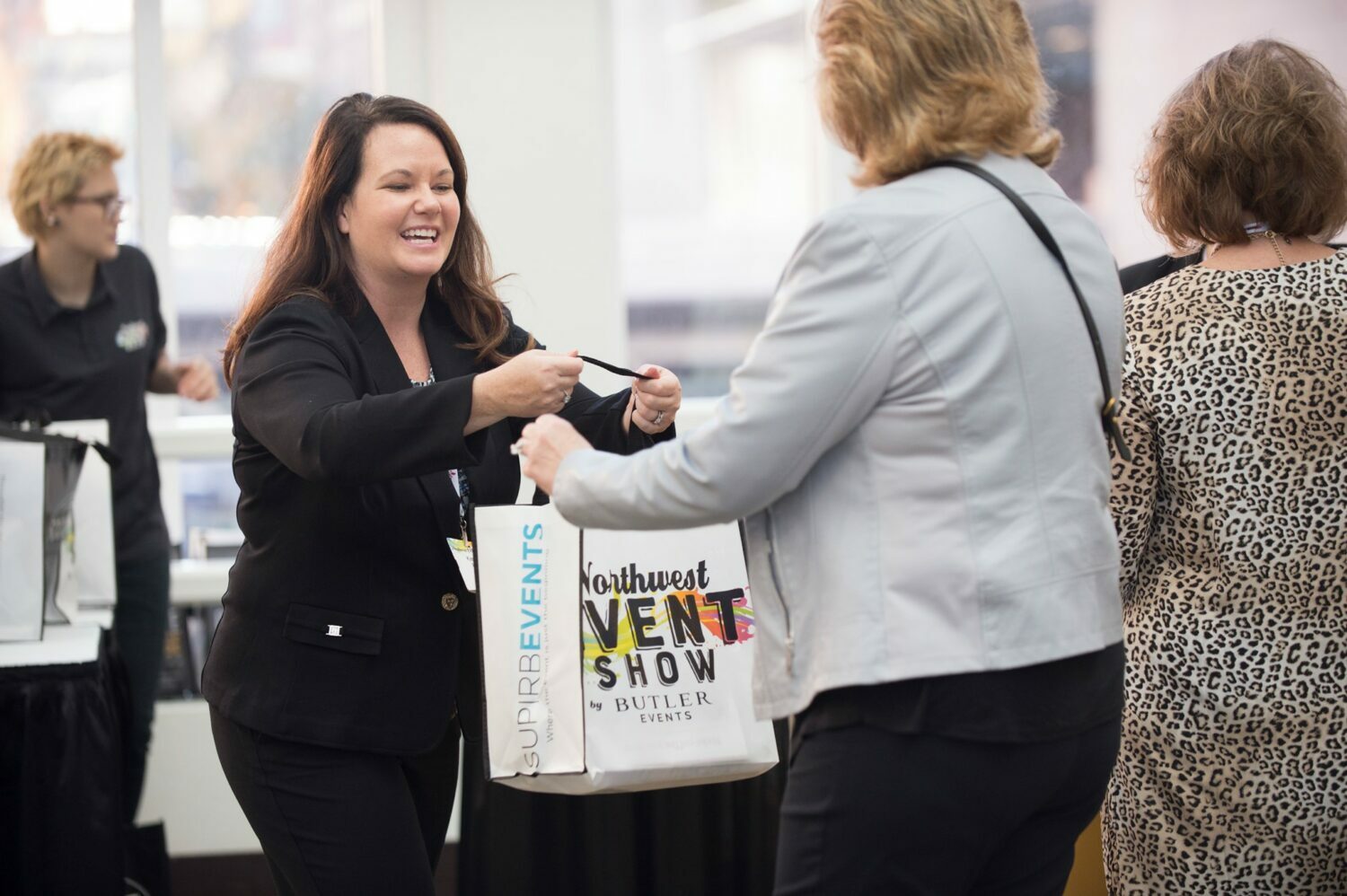 There are many ways and many venues that use sales tools, giveaways, traffic builders, incentives – or as we like to say in the biz, SWAG.  Whether attending a high traffic tradeshow or handing out VIP swag bags in an exclusive setting, we implore you to take a second to ponder these questions – Is it fun and functional?  Will it surprise and delight?  Is it relevant to our brand, our message and our goal?   If not, they need to be.  Branded merchandise given away at events are some of the best marketing dollars you can spend.  If you're not thinking strategically and with a plan in place, you're missing the boat.  Next time you to find yourself in a situation where you have to hand out giveaways consider a more retail approach.  Execute on trends, design and functionality.  Your item doesn't need to be super expensive, but if the function paired with design are attractive, your item will be valuable and desired.
At the NW Event Show we took it upon ourselves to create an iconic Northwest giveaway. We were stuck for a long time trying to decide what that really screams PNW.  We then took our own advice and decided to keep it simple with a t-shirt but then really make it memorable by featuring custom artwork by iconic local artist Ryan Henry ward.  It was an absolute success! We took a simple product and made it spectacular with the right design for the event, the audience and our brand.