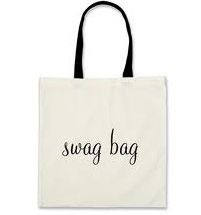 Oscar season is upon us and the infamous swag bag has been thrust front and center. For those of us in the branded merchandise field, this year's bag, worth $80,000, is the stuff of dreams. From spa systems and vacations to posh pet care and aerial lessons, this year's bag is leaving last year's paltry $45,000 value in the dust.
Head out of the clouds and back to regular life, where swag bags are an everyday occurrence—but our budgets are often more like $8 instead of $80,000! We all know the standard trade show swag bag: badge reel, pens, notebooks, hand sanitizer and maybe a hangover kit if you're in LasVegas. The auction swag bag is also a staple here in the Seattle area: brand name lotions and potions, high-end accessories and certificates to local favorites.
So here's our question to you:
What's the best thing that you've received in a swag bag? And, why was it the best?
Arguably all of the people donating to the Oscar bags or any other swag bag you or I may receive are doing it for one reason: brand building. You take that bag home and reuse it for groceries, getting that brand impression out in the world at least once a week. You use that pen in your office; if it's a good one, people try and steal it from you and sure as heck remember where you got it. That hand sanitizer in your hand bag is pulled out every night on the bus on the way home, reminding you of where you got it and who gave it to you—and reminding all the other schmucks on the bus they need to wash up when they get home!
It's all about impressions: how many, where and to whom. Get your product in the right hands, and your message, your branding and your team has legs far beyond the "thing" you handed out. For those lucky few getting the Oscar bags, it will be interesting to see if they tweet out about the trips, or if they hire ghost tweeters to do it for them! Will these companies see a return on investment? We're talking about them right now aren't we…